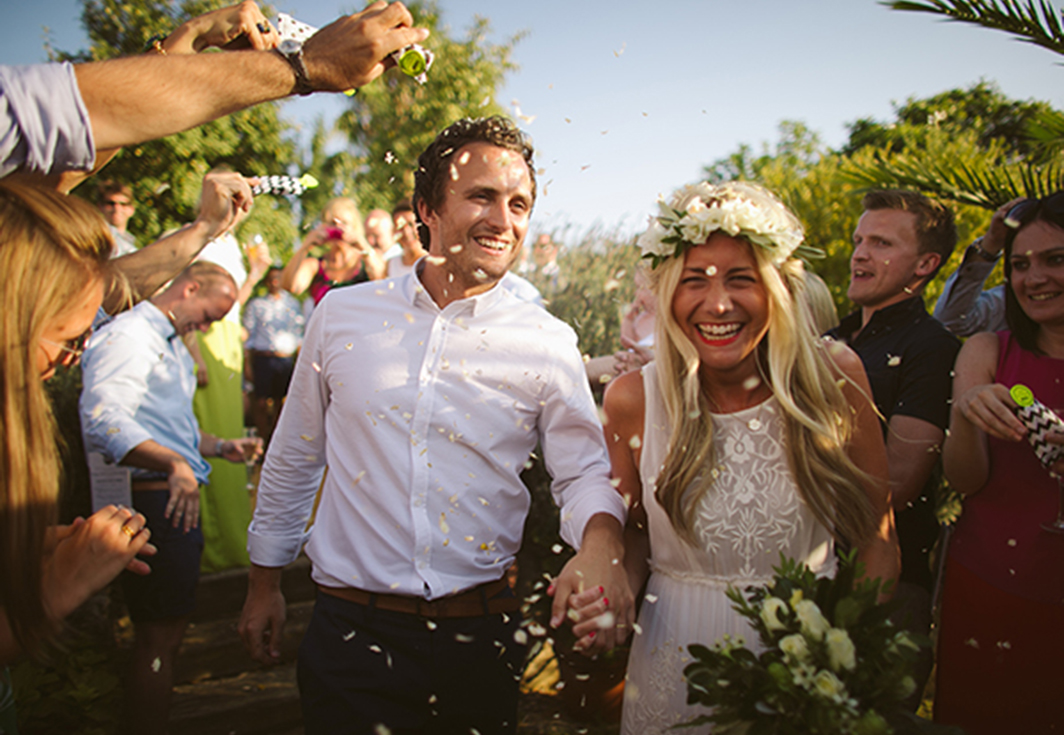 My little sis Nicky got married to her Ben all the way back in August 2013. I thought sharing their wedding here today would be a great way of bringing a little bit of sunshine to this grey January day, take a look and feel the sunshine on your face.
Their wedding has already been featured by the lovely Annabel on the Love my Dress blog here.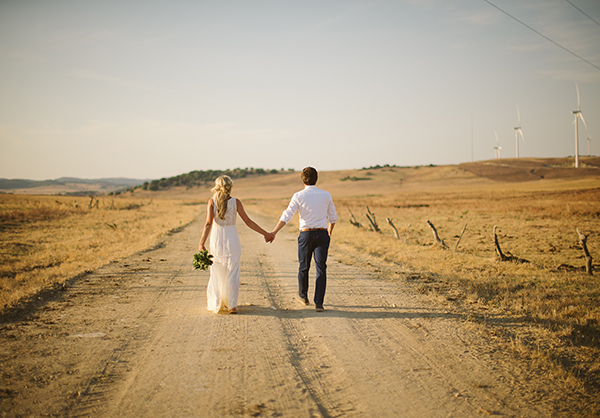 Their wedding was an incredible day/week full of so much love, laughter, fun, and sun! Neither of them wanted a 'traditional' wedding, but wanted to make sure the day was a celebration of their relationship and who they were and all the things they love. As their wedding was in southern Spain, they also wanted to make sure all their guests who had made such an effort to join them had a fantastic time too. My sis and Ben filled the day with so many special little touches and fantastic DIY elements to make it really personal.
Their wedding ceremony and reception was held at Casa La Siesta, a beautiful small boutique hotel in southern Spain close to the hilltop town of Vejer de la Frontera and the stunning beaches of the Costa de Luz.  The staff at Casa La Siesta were wonderful, the perfect hosts. No detail was left to chance and they put great effort into ensuring everything ran smoothly and everyone was happy.
I loved helping out with their preparations in the year leading up to the wedding, the designing, planning, making and organising, it was so lovely to share it with my sis. I was flattered that they asked me to do their floral design for the day, especially my sisters flower crown. To make sure their flowers were in keeping with the surroundings of Casa La Siesta and the laid back style they wanted for the day, I opted to use the plants, trees and flowers from the hotel garden, including eucalyptus, bay leaves, rosemary and olive leaves, and in addition we bought in lots of white bougainvillaea.
One of my favourite little touches that they handmade for all the guests were the compilation CDs for which we designed the covers (as they knew everyone would be driving rental cars and would have had to tune into local radio, so hoped this would provide some light relief for their journey).
My sister and I designed all the wedding stationery together, from the hand stamped Beer Mat Save the Dates, the invitation suite, menus, table plan, place cards and all the signs. My sister is a print designer for fabric so she wanted to include something that she'd designed and had printed for the wedding especially, so she designed and printed a collection of different patterned napkins. We also had the table plan and personalised bunting printed onto fabric.
During their ceremony they had two readings, the first an extract from one of Ben's favourite books 'One Day' by David Nicholls read by my aunty and the other 'A Vow' by Wendy Cope which was read by Ben's Mum. Both readings really resonated with them and they chose them as they felt they were an honest account of who they are.
Here's the 'One Day' reading…'Live each day as if it's your last', that was the conventional advice, but really, who had the energy for that? What if it rained or you felt a bit glandy? It just wasn't practical. Better by far to simply try and be good and courageous and bold and to make a difference. Not change the world exactly, but the bit around you. Go out there with your passion and work hard at, something. Change lives through art maybe. Cherish your friends, stay true to your principles, live passionately and fully and well. Experience new things. Love and be loved, if you ever get the chance.'  (David Nicholls, One Day)."
During their ceremony and after the speeches they had Kate and Dave of 'Music by Kate and Dave' perform. During the ceremony they played their own stripped down version of 'Running' by Jessie Ware as well as a unique version of 'Baby Be Mine' by Michael Jackson (this was a special surprise for Ben who is a massive Michael Jackson fan).   After dinner and the speeches they performed Cold Play's 'Yellow'. This was an amazing part of the day.
"Casa La Siesta provided all of the catering, and both the food and drinks were incredible. Their food is fantastic, utterly delicious, beautifully served and completely unpretentious.  
They were lucky enough to have the wonderful Tom Ravenshear taking photographs, all the way from the night before the wedding, through to the pool party the day after the wedding. They also made the last minute decision to hire a videographer, and had the lovely Daniel from Umlaut Weddings, who spent three days capturing every moment. Their video is wonderful, and the perfect memory of the wedding.
Once of my favourite parts of their day was the surprise first dance. They kept their first dance as a surprise. It started with Van Morrison's 'Into the mystic', and then cut, after a minute or so, into Pointer Sisters' 'I'm so excited'. Their close family joined them on the dancefloor to perform a group dance that we'd planned and practised in the villa we had hired for the week before the wedding, introducing members of the head table at different junctures in the song! It was so much fun, and all the guests loved it.
I hope you enjoyed their photographs! It is so lovely looking back at the day! Tomorrow I will be sharing more of their stationery including their invitations.
Details and Credits:
Photographer – Tom Ravenshear
Film Producer – Umlaut Weddings
Venue + Catering – Casa La Siesta, boutique hotel in Southern Spain
Wedding Dress – Free People
Brides' shoes – ASOS
Bride's accessories – Alex Monroe
Groom's Attire – white shirt & shoes from Cos + blue trousers from Reiss + vintage belt
Bridesmaids – Maxi dresses from BCBG tailored by Finiks into long skirts teamed with white folk embroidered tops from Topshop
Flowers – Me Lucy says I Do
Entertainment – Music by Kate and Dave
Favours – The bride, groom
Styling – My sis and me 
Rings – Alex Monroe which is where Ben had Nicky's engagement ring designed in secret
Stationery – My sis and me 
Ceremony entry music: We Are Ghosts' by James Vincent McMorrow
Ceremony exit music:'Holiday' by Madonna