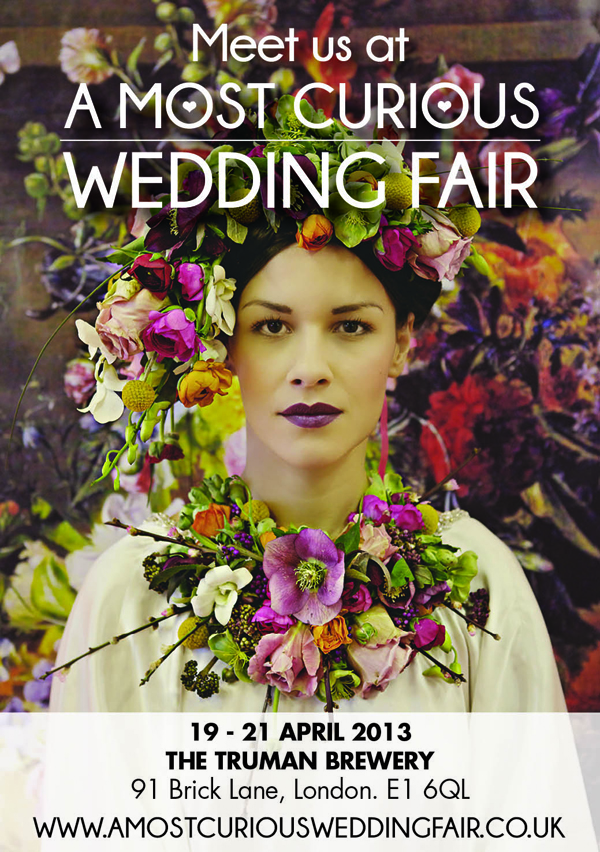 I am all about original, creative and fun wedding inspiration, and I love discovering talented wedding artists with a design edge. If you're a couple looking for wedding inspiration and ideas along these lines and you're in the London area, why not check out A Most Curious Wedding Fair.
The fair will be full of innovative, design-led suppliers (including me!), and will include fashion shows, entertainment, styling, activities, music and performance.
I've been nominated for Bridal NEXT, and so will be exhibiting at the fair! Bridal NEXT, is an initiative set up by A Most Curious Wedding Fair to support and promote fresh, fashion-led, new and innovative talent in the bridal industry awards! I'm very excited to be a part of it!
The 2013 London Most Curious Wedding Fair is being held across the weekend of the 20th and 21st April: 20 APRIL 10.30AM – 5PM, 21 APRIL 10.30AM -4.30PM, its £3 advance and £4 on the door, at The Truman Brewery, Bay Gallery, 91 Brick Lane, London E1 6QL