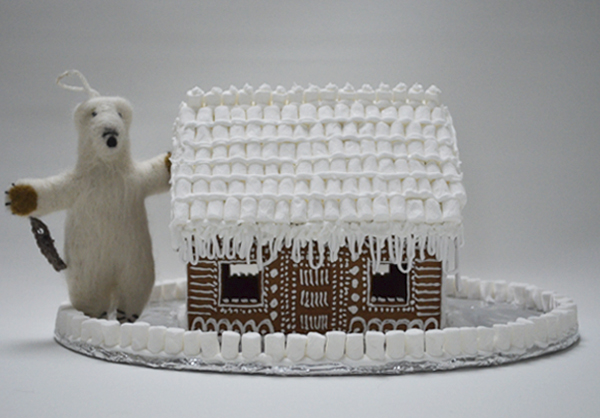 I just wanted to say a massive HAPPY CHRISTMAS and a WONDERFUL NEW YEAR to everyone who visits Lucy says I do. Thank you so much for taking the time to look through my pages.  I look forward to bringing you even more beautiful things in the new year.
The Lucy says I do design studio is now closed for Christmas. I will however be answering emails and responding to inquiries and bookings for 2013 and beyond.
The new year sees some exciting developments at Lucy says I do. I will be adding new stationery collections and lovely new 'on the day' paper goods, updating the website, and providing some exciting dress developments to name but a few!
Now more about this image… I can't take credit for this gingerbread house, it's my sisters. At our annual gingerbread house decorating championship last weekend, Paul and I went more for the amusing Apres ski bar covered in brightly coloured sugar stars rather than a beautiful, simple cottage (you can see our efforts here). I loved my sister's house however and so had to take a picture. Alongside the house is my favourite Christmas tree decoration of 2012, Anthropologie's Polar Bear complete with a little felt fish. I think they look pretty good together.
Image is my own.